Als we van een supergroep spreken dan denken we meteen aan de samenwerking tussen meerdere leden van meerdere bands. Heel dikwijls gaat het dan over bands die nu hot zijn en waarbij een aantal van hen een extraatje gaan doen in die superband. In het verleden (denk vooral aan de jaren zeventig) kwam het er dikwijls op neer dat een paar kopstukken van grote bands na het uiteenspatten van hun bands samen een nieuwe band gingen vormen. The Immediate Family zou ik ook graag als zo'n supergroep zien, al zullen de meeste namen niet echt een belletje doen rinkelen.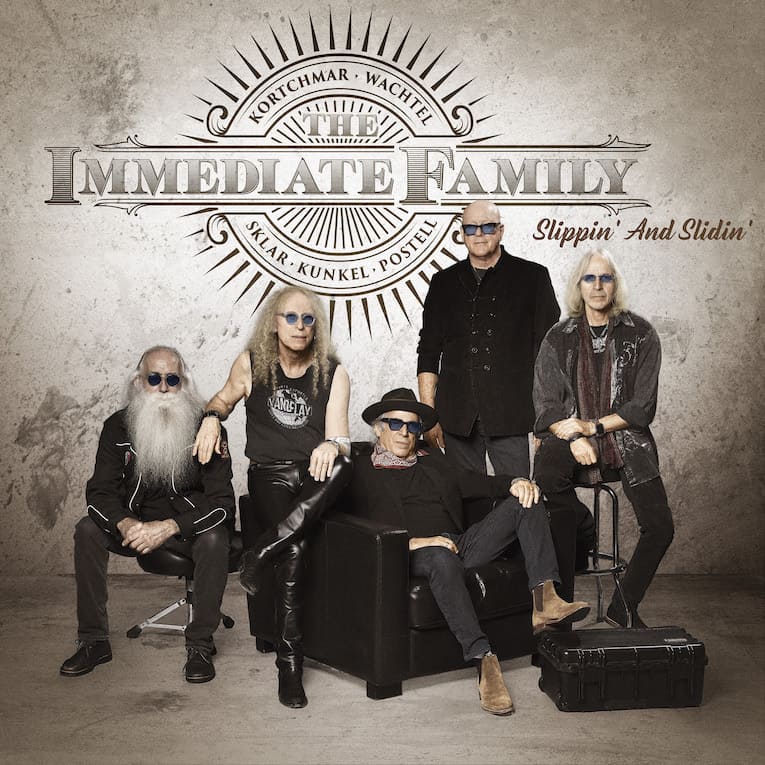 Danny Kortchmar, Waddy Wachtel, Leland Sklar, Russ Kunke en Steve Postell zijn geen ronkende namen bij het grote publiek maar wie liefhebber is van James Taylor, Jackson Brown, Linda Ronstadt, Carole King of Don Henley om maar enkelen namen te noemen, zal deze heren misschien wel kennen. Het zijn stuk voor stuk muzikanten die al jarenlang de knepen van het vak kennen, al veel samen gewerkt hebben in verschillende combinaties en voor verschillende grootheden, maar zelf nog nooit een plaat samen opnamen. En toch wil de som van al dat talent niet zeggen dat je daarom meteen een gouden plaat in handen hebt.
Can't Stop Progress is een leuke plaat geworden met vooral heel erg veel goed gepolijste en goed klinkende nummers maar waar het wow-effect wel ontbreekt. Het is een beetje teveel een '13 in een dozijn'-verhaal geworden waarbij er niet echt uitschieters op te merken zijn. Machine Gun Kellyis zowat het enige nummer dat er een beetje uitspringt. En terwijl de rest van songs niet direct ballades zijn, had het allemaal toch een beetje harder gemogen. Titeltrack Can't Stop Progress start geweldig goed maar vervalt gaandeweg in een Crazy Horse-kloon waarbij the Immediate Family helaas verbleekt. Op One More Time doen ze waar ze ongetwijfeld goed in zijn en dat is van die sappige poppyrocktunes spelen. Maar eerlijk gezegd ontbreekt het ook hier voor een groot stuk aan originaliteit. Met 3:45 Coming Through worden de bluesregisters nog eens opengetrokken, maar ook dit is niet bijster origineel te noemen en ondanks het feit dat het één van de betere nummers is, gaat onze aandacht al vlug de andere richting uit.
Can't Stop Progress is zeker geen slecht plaat en de muziek die ik bij een voorbeluistering kreeg was zeker niet slecht, alleen ontbreekt het een beetje aan impact om echt boeiend te blijven en dat is uiteraard jammer. Live zijn de mannen zonder meer aangenaam want ze nemen er nog een pak covers bij die ze doorheen de jaren heen mee hielpen inblikken, maar deze Can't Stop Progresszal toch niet direct in mijn platenkast belanden.
Mr. Blue Boogie